This article was originally posted on The After Party Blog on Mar 06, 2009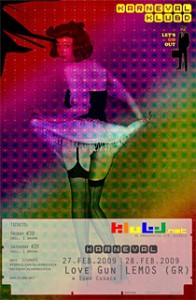 It's been more than three months since it opened but I only managed to pay a visit to Klubd last Saturday. I was one of the regulars back in the days when it used to be spelled with a 'C', so to me the most obvious things when going there after so long were the differences. The first thing you notice upon arriving, is the change in the entrance, the long side corridor has been replaced by a more direct entrance which, after entering the club, evidently saves a lot of the wasted space. The big bar has been moved and split into two, and the DJ box was relocated to the far end of the length of the main section of the room. You can't but notice the LED panel on the roof and behind the DJ which is a nice feature for an otherwise completely black/dark place. What became immediately apparent about it, is that after the first five minutes it loses its novelty factor and you no longer even notice that its there. The sound system was sufficient, by Cyprus standards, nothing extreme but provided an above average club sound, at least to the dance section. As a non-smoker, I felt that they should improve with air-conditioning / ventilation which didn't seem sufficient.
I was surprised the most by the people; not sure if it's the same every time since this was a 'carnival' themed night and people on such occasions act a bit crazier than usual, but almost all of the 120-140 people who were there were dancing and enjoying themselves. The whole atmosphere had the same feeling of parties that took place 3-4 years ago when people used to go to electronic dance events to have fun and not to pretend they are someone else. I guess that goes with the whole philosophy of the club, there's nothing pretentious about it, no VIP sections and other similar peculiarities, just a dark room for people to listen to music, have a drink and enjoy themselves. And since I mentioned drinks I have to say that the bar prices are lower than the competition's; Jack Daniel's Coke at Klubd is 7 euro while at Versus is 10.
The music played by Lemos is not exactly my style so I don't think its right for me to make any comments about it, but seeing people enjoying it, I take it, was good.
Overall seems like klubd has acquired a stable crowd, after the first ups and downs with the entrance prices. It seems like a good effort, it definitely has its place in the Nicosia's clubbing scene, filling a gap that was created when it closed.
Comments
comments